Lizmap Hosting: Your Lizmap instances managed by 3Liz
Lizmap is an open-source software, designed by 3Liz, that you can install at your place. But setting up and maintaining a server properly is time consuming and can be complicated.
Choosing to host your QGIS maps with Lizmap on Lizmap Hosting, allows you to enjoy the following benefits:
No servers to configure, no backups to set: we take care of everything!
You benefit at any time from the latest version of Lizmap and QGIS-Server Long Term Release (LTR)
Improve your QGIS projects with our validator, accessible only from your Lizmap application installed on our hosting platform!
More features into Lizmap with our optional modules
Secured access to Lizmap, PostgreSQL and FTP with encrypted connection with our free SSL/TLS certificates
And many more benefits!
---
Lizmap is an open-source software designed by 3Liz
Create Web map applications with QGIS® and Lizmap.
Lizmap allows in QGIS® Desktop to create Web map applications.
These can be simple for the publication of a map intended for the general public in order to valorise geographic information, like the demonstration map of points of interest in the Lake Geneva watershed or flood risks in Montpellier.
They can integrate functions of creation and modification of data for a collaborative creation of geographical information, as for the map of demonstration of the faunistic observations in Polynesia.
It is also possible to integrate dedicated features like the Paris by night demonstration map.
Lizmap was used to create:
an app of valorisation of a regional park
an application for managing a public transport network (relationship between establishments / bus stops / bus lines)
an application for the valuation of risk prevention plans
an application for the valorisation of agricultural production data
an application for valuing land use information
and many others...
The advantages of Lizmap
The maps faithfully reproduce the cartographic rendering made in QGIS®.
The cartographic application editor uses only one software: QGIS®.
Web interface adapts to different screen sizes (responsive interface).
An integrated printing function.
The steps of publishing with Lizmap
| Prepare | Transfer | View |
| --- | --- | --- |
| your map applications | your data and QGIS® projects | on the Web |
| | | |
| The editor configures in QGIS® the options for each map and the tools that will be available within the map application with the Lizmap plugin. | The Lizmap web client is installed on a map server with QGIS® Server. The publisher places its QGIS® projects and the Lizmap configuration on the server. | Users can access map applications with their web browser (Firefox, Chrome, Safari, Opera, Edge, etc.) and use the tools made available by the publisher. |
The advanced features of Lizmap
A cache system for publishing WMTS service
A right's management system allowing access control to applications but also to tools
A media management system for linking documents, images, videos to geographical objects
A dynamic data filtering system for a specific display
A modular system to develop and integrate business tools (French Cadastre, French ADS, etc.)
Discover Lizmap
Our demo instance offers different examples of using Lizmap.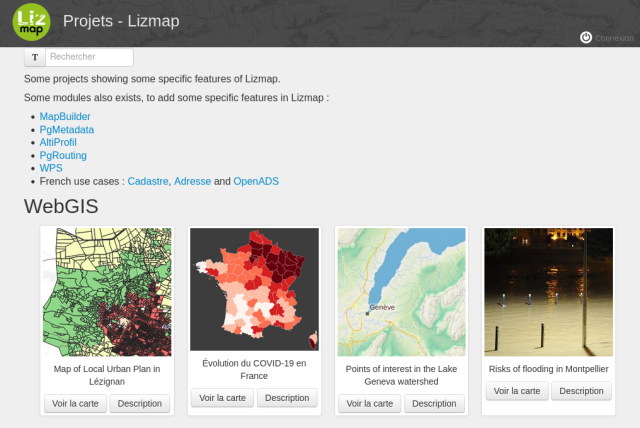 Convinced? Choose the plan that best suits your needs!